The place before we face the world: the bathroom. The bathroom is one of the many places we don't miss to enter in a day, may it be in the house, office, restaurant or any building we go. We always drop by the bathroom to check ourselves. And since we always want something exquisite and foxy in our sight (remodeling the bathroom), we wanted our bathrooms to have drama, intense, creativity and beauty. One way to adorn and enhance your rooms is through bathroom lighting.
Bathroom Lighting is one of the many approaches that you could experiment to add more glamour and beauty when improving your bathrooms. There are a lot of things to consider in lighting your bathrooms such as the amount of light for your bathrooms. The amount of light you need for your bathrooms actually depends on how big the room is.
This is simple, just get the room size and multiply it by 20 and you'll get the exact amount of watts you need for the room. For example you have an area of 9square meters, you multiply 9sqm by 20 and you'll get 180watts. 180 watts is the amount of light you need to light up your bathrooms. Now in installing the lights of your bathroom will depend on zonal concepts and IP (Ingress Protection). IP is followed by two numbers: the first number indicates the degree of protection against particles or solid subjects while the second number signifies the fittings resistance to water. Bear in mind that you have to apply a fitting with a correct rating according to where the fitting will be sited in the bathroom. Here are some of the different area zones: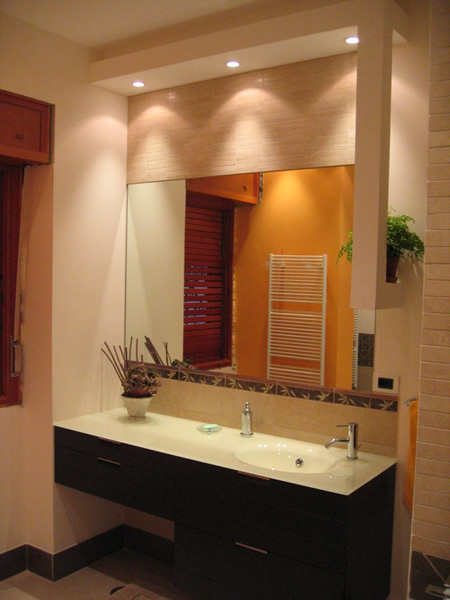 Zone 1: A height of 2.25m above the floor, this area is above the bath or shower tray. Zone 1 requires a minimum of IP44 rating.
Zone 2: Zone 2 requires at least IP44. Zone 2 stretches from 0.6m outside the perimeter of the bath or shower tray and to a height of 2.25m from the floor. It's also good to consider the area around the wash basin as zone 2.
Zone 3: This area is any area outside zone 1 and 2 and it has an IP rating of IP20. Take note if there are water jets used for cleaning purposes or a possibility of splashing waters in zone 1 and 2 you must use the rating of IP65.
Use frosted or white bulbs rather than clear bulbs to eliminate glare and incandescent lamps are good for bathrooms because of its warm daylight glow. Too much light can be binding and uncomfortable and too little light can make activities difficult. Have this guide lead you to elegant and enticing bathroom lighting.
Various types or classifications of bathroom light
Hardware flourishes like doorknobs, cabinet knobs, and faucets along with bathroom light fixtures can establish an entire mood or style in just a decorating accessory. The various types or classifications of modern bathroom light fixtures are especially designed to give you more focused task lighting at a mirror especially during at night so that it would give you a more subtle and calm appearance of yourself, diffuse lighting above a shower or bathtub, or overhead lighting for the entire room. They come in several distinct designs, with an almost infinite number of variations on finish, color, texture, glass, and size. One of the various types of bathroom light fixtures is the bar light installed by plumbers. Bar lights are a series of small trochees arched on a metal bar that attaches to the wall above your counter top and sink.

These versatile lights are either held upward or downward facing glass shades, so the lamp might overflow a mirrored cabinet or bounce light off the ceiling. Since the bar can arch up to two to six shades, they can extend or stretch over double-sinks as well, eliminating the need to have two separate fixtures. You can find the shades available in white, frosted, or translucent glass. The metal parts are available in shiny chrome, polished brass, nickel, or antique finishes.
Vanity globes is one variation of the bar lights. These round, white, glass bulbs entirely encase the light bulbs. You usually find them topping mirrors in celebrity dressing rooms. Again, this alternative gives a firm, extensive, diffuse light that is perfect for close-up primping. Globes would look best over a constrict sink, vanity table, or in a guest bathroom where their fun, Hollywood style would perfectly fit with the decor.
Types of bathroom light fixtures
Sconces are another one of the various types of bathroom light fixtures. The sconce category includes entities that hold only a single shade and a single light bulb. These are similar to wall lamps found in other areas or rooms of the house, such as the library or corridor, although corner bathroom lights tend to be less exuberant. A sconce can be situated in an area far from the sinks, such as in front of a closet or in a separate room for the chiffonier.


Finally, sunken lighting is a popular option for ceiling luminance. Since the bathroom receives so much moisture inside, it is uncommon to find crystal chandeliers hanging from the ceiling! A perfect alternative choice from among the many various types of bathroom light fixtures is to go with sunken lighting. These are simple, round lamps that lay outpouring with the ceiling, so they don't have any dangling parts to collect condensation and dust made by the bathroom temperature. They may be more difficult to install however, since the wires are located inside the ceiling.