You may be thinking of decorating your home interior soon. This will challenge your creativity when you try to make everything look unique and elegant. One of the major parts of your home that can enhance the overall ambiance of your residence is the window. You should focus on the details of what type of curtains or draperies you are going to install. There are different techniques that can guide you to make your windows look fabulous and stylish. However, you must first establish the color theme of your house. This will help you integrate the color and design of the curtains for your windows. Each room may have different color schemes which can be another challenging task as you try to find the right color and design that suits each room.

1.)
Ordinary hanging curtains will look fabulous if you match them with swags and valances. This will bring a rich and stylish look inside your room. Tiebacks and decorative curtain poles can also contribute to a classy and elegant look for your windows. This kind of design is mostly seen in living rooms or in the master's bedroom.
2.) If you want a cozy ambiance, you can use lighter colors such as white sheer fabrics that hang loosely on curtain poles. Curtains that touch the floor look best. On the other hand, shorter curtains are more advisable for families that have small children to avoid accidents.
3.) If you choose to use blinds, you can still make them look great. You can match them with brass curtain rods for swags or valances. Or you can even match them with brass finials and holdbacks that increase the elegant look of your blind curtains.
4.) If you want to have a more edgy theme, you can use beads as outer layer curtains to give a colorful look to your windows. Choose a neutral or solid color for your inner layer curtains to give a striking colorful effect on the beads.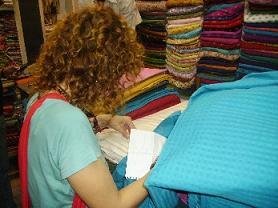 For lighter rooms like the kitchen, it is much easier to
look for the right curtains
to install. You can use the cooler shades as well as those with contemporary designs. Lighter or thinner fabrics are best advised for proper air circulation around this area. Most of these types are hung particularly on the window above the kitchen sink. Thick curtains especially those with vinyl backing are mostly used in bathrooms and bedrooms. Thicker fabrics used as curtains are purposely made to block out light to offer some privacy. But if you want some light to pass through, you can use sheer, lightweight curtains that cover only half of the window.
When purchasing your curtains and draperies, think of ways to make sure that the resulting effect for your home will be pleasant to the eye. The right choice of fabrics has its own purpose not just for decoration and style but also for safety. You can consult an interior designer if you want to be safe from making the wrong choices. Or you can even look for great ideas through books or internet websites that have free guidelines and techniques for this kind of interior decoration.