Most often we do not give the same care and effort in choosing the rods and finials as we do on the curtains. In fact, these two components of window treatments often go unnoticed or ignored. This is because when the curtain rods get concealed by the particular type curtains we choose, most of us do not go to the trouble of choosing or spending more than what is absolutely necessary on the curtain rods that are not going to be visible anyway. But later on when your taste changes and you want to put up a different curtain style as bamboo curtains, say a button tabbed curtain, the cheap and ugly curtain rods will be revealed in all its glory. To avoid this mishap, it is better to choose curtain rods with finials that match your curtains in style and quality. The right curtains and finials will enhance the curtains as well as your windows and display them to their best advantage.

Rods and finials are available in a wide range of colors, materials and styles. While some curtain rods are made to be concealed, others are designed to enhance the décor with elaborate or elegant decorations and eye-catching colors. If you choose a curtain rod that is decorative and meant to be displayed then it is best to hang the curtains from the rods with the help of decorative curtain rings. The best way is to choose your curtains, rods and finials at the same time to avoid any mismatches. By choosing them together you can find curtains and rods that complement each other perfectly.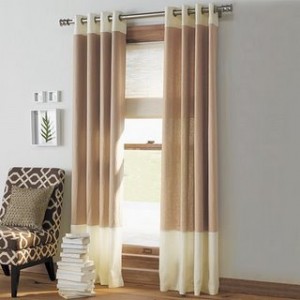 If you have no idea what a finial is, then you will be surprised to know that they are nothing but the official name of the decorative end pieces of a curtain rod. These finials are available in numerous varieties ranging from simple and elegant to highly decorative. They are also available in a wide range of materials including wrought-iron, wood, glass and plastic. There are different types of finials like the hook, the swirl, the dagger and the ball or onion. Their price also varies widely from very cheap plastic models to very expensive pieces that are fancy and highly decorative. Though the final choice depends on your budget, you should also make sure to choose the curtain rods and finials to blend well with your curtains and the décor of your home.