Adding tiles to your kitchen top makes it look inviting and attractive. It also makes your kitchen clean. Changing the looks of your kitchen can be done in few, easy steps; here are some of the most helpful steps you can use:

1.
You have an option; by removing the existing
counter tops
or you can simply overlap it by putting new set of tiles. You can also choose to put in plywood first before putting the new set of tiles.
2.
Choose among easy to apply and quick dry tile adhesive.
3.
The next thing to do is to apply
a tile grout
. Use damp sponge to smoothen the application of tile grout.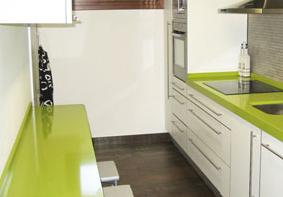 Applying tiles on a kitchen counter top will give accent to your kitchen. It will give a whole new look to your old and dull kitchen top. Choose among
colored tiles
available in the market today. Most of the tiles today are fancy and can be easily mixed up with curtains and wall paints.