Dull interiors can really bog you down and make you crave for some change which will break the monotony. Why don't you try lighting up the room with bamboo curtains? These bring a sea change to your entire room and make it look like you are vacationing somewhere in the pacific islands. Besides, bamboo curtains attract attention from your neighbours and friends and make them envious of you. Here are some tips on how you can give a cool and chic look to your room with the help of bamboo curtains.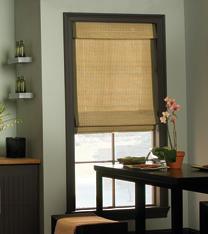 Bamboo curtains
can be used as wall hangings or they can cover up doors and windows. Either way, they give a novel and enticing look. These bamboo curtains contain bamboo beads that are made from original bamboo stem. The beads are arranged on wire and a single strand of beads contains at least 100 beads. These strands are suspended from a frame.
To add some color
to the beads, paint can be applied by hand on both sides of the beads. This gives them an attractive and colorful appearance. They are ready to be hung anywhere be it on the wall or in the doorway.
The next question that arises in your mind is how to go about choosing the curtains. There are a wide range of bamboo curtains available for you to select from. Hand painted curtains are numerous in numbers and you can choose one that defines your living space. If you are the artistic type then you can go for the bamboo curtains that feature artistic pieces like Mona Lisa or if you are the fun loving, frolicking type then you can opt for a beach picture or a picture of a ball game. You can even have custom made ones. There are stores which do paintings that you wish for on your order. Though these may cost you more, they are worth the cost once you see how they transform your room.

Bamboo curtains are long lasting and they can be taken care of easily without much effort on your part. Installing one in your home is also very easy as all they require is two screws on the wall and you are done hanging them. Most hand painted ones come at a reasonable rate and you don't have to worry about the extra cost. So go on and purchase one for your home. You will find even your kids enjoying the effect of these bamboo curtains and they might even want one for their room!